biographic jewels (all SOLD)
Let's make something new! one-of-a-kind jewels will stay for generations. each jewel carries the soul of the maker and the WEARer alike. Expensive materials make these pieces seriously valuable. 
the lady who bought this big ring had the favourite lines of her husband hand-engraved in the ring. she is wearing it at her pinkie but also places it next to the photo of her beloved one, who died unfortunately. rock crystal, silver
18ct (recycled) Gold earrings for a woman who emigrated from the USA to the netherlands after her divorce to start a new life with her first beau: reading:
'Being deeply loved by someone gives you strength, while loving someone deeply, gives you courage'.
18ct (recycled family) gold and silver modern charm bracelet for a texan student ordered by her mom. together with the mother i designed 40 symbols, visualizing the girl's life.
Commissioned gold brooches with a heart-lock. Very romantic moment when he said he will take her brooche into his grave. After I drew their portraits (50 x 70cm), 1.2 mm gold wire was used for 35+ joints. Material 18ct recycled gold, rough diamonds
18ct and pearl Sea Mine earrings, ordered by a husband for his wife at their 25th wedding anniversary. These guys have quite an explosive relationship but love each other 'till death do us part'.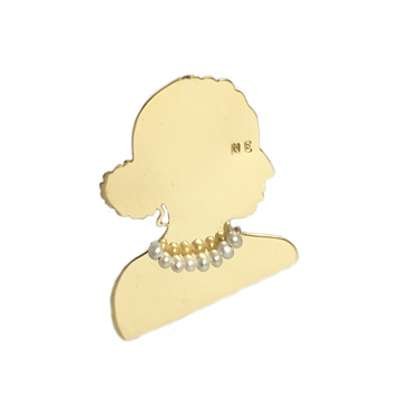 portrait of marina – mad men style. this high gloss gold brooche was made of 5 grams 18ct gold with seed pearls. size ± 5 x 5 cm
After her husband passed away, she asked me to make her a memory ring from both their 14ct white gold wedding bands. I turned them inside out, joined them by a gold ring symbolizing their daughter. 15 big diamonds were added for the daughter's age and 24 small diamonds as they were married for 39 years.
A beautiful 70 yr old lady came into the atelier for a special jewel. She lost her husband and now wanted her strength expressed. She asked me to add some of her birthstones. Since she also really liked the beach and the dunes, three layers of gold marram grass are waving in the same direction, as a symbol of her resilience & strength. Material 18ct gold, sapphires
Sphinx cocktail ring. The cat was first hand-carved in wax (watch the process at 'behind the scenes') until it looked like the client's pet. a tiny 3D-scan of the husband in gold, sat on the back of the cat, but she preferred just the cat. 18ct gold, colored diamonds.
18ct Chandeliers earrings with pearls, made for a fellow goldsmith student, who could have made these herself; already the second piece for this great fan!
'NOTHING IS IMPOSSIBLE TO THE BRAVE'. stamped ring for a 15 year old girl in memory of her father. 18CT GOLD yellow and WHITE GOLD, VVSI DIAMOND.
Months before my father died, I've made this portrait-lock bracelet for my mother's 80th birthday. she wears it now with a new beau on her side. the gold was recycled from a traditional Dutch head clasp and the beautiful antique 1cm corals I'd found at internet. 18ct gold, precious corals